5 THINGS IN MY LIFE THIS WEEK
THEME: CHANGE
1) Earlier in the week, Otto woke up, grabbed many of his schoolbooks and began working BEFORE I WAS EVEN OUT OF BED. This sparked a change where he will now have a list of independent work each day. I have been dreaming of this day but had no idea that it would lead to such a stressful and busy week for me. I thought that HIM WORKING ALONE would be LESS WORK. Ha ha ha.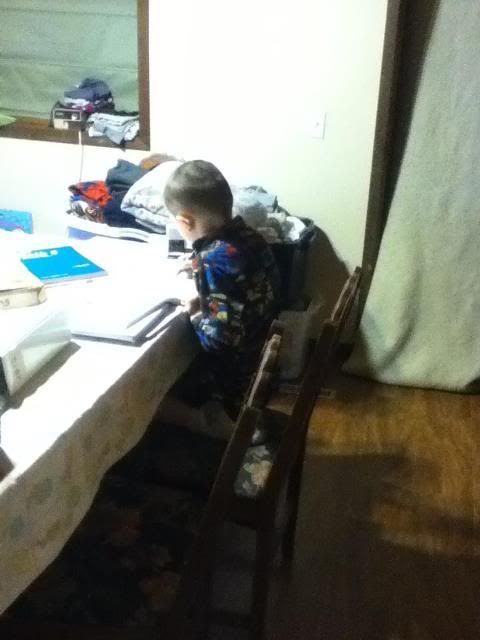 2) New routines: I now need to plan school (at least his independent work) the night before instead of while we are doing school. I also need to have it written out in such a way that Otto can read it and know what to do. Then I need to pull his stuff out of drawers and placed in a pile on the table (until we get another plan worked out). After he works on his stuff I now need to "grade" it or look at it to make sure he understands what is going on. I used to do this while we worked together. I also need to quiz him on his independent reading to make sure he understands what he is reading. It's easier when I HEAR the words coming out of his mouth. And I am NOW using my extra teaching time to teach my younger two which means preschool planning and prep work. OY!
3) Teaching the younger two. Abram is 5 and in Pre-K. We are working on learning to write numbers and letters and working on reading. Captain Distractable is so CHALLENGING TO TEACH. After telling him to sit about 5 times I found him with one foot on the chair, one foot in the air up above his back and his hands on the kitchen table all the while sounding out his letters. OY!! This boy! Gracie (3.5) wants to do what Abram is doing but she is not yet able to write. She can scribble and will try a letter here and there but is just not able to hold that pencil, crayon or marker and make it do what it needs to do. SO.... this week I have had her do some busy, manipulatives activity beside Abram while I did a "lesson" with Abram. So on Friday, when my act was the "most together" Abram was doing Domino math and Gracie was stacking dominoes. We shall see what this coming week holds.
4) Table time with Otto doing independent work (when he doesn't get up early to do it) and with the youngers doing their work is fun, adrenaline producing and stressful. WE ALL (by that I mean THEY ALL) need to work at waiting until mommy is done teaching, or at least talking through the current sentence, before yelling "MOM!!!!!!" repetitively in a head splitting crescendo. It will come, this is new to all of us. Learning to take turns and to not interrupt is going to take time but is SO VALUABLE. :)
5) With all the change and stress of new routines (praise Jesus my hormones have been hovering at near normal this week) we have had some cuteness added to the farm. The first two of many lambs have arrived. Two Ewe lambs. The counting fun is just about to get CRAZY. With this birth we now have 2 male sheep, a mamma with 2 lambs and 10 more pregnant with either 1, 2 or 3 babies. Most of them look like they have 6....but that might just be my hormones freaking me out again! Counting up to 13 USED to be challenging. We now have 15 and when those other babes start entering the world we just might need an erasable photo sheet of them all to mark off as we eyeball them to make sure they are accounted for. Counting sheep is NOT sleep producing. :)