We got a bit of a slow start with our routine after the holidays. The holiday season was a hard one with influenza for me and bad things happening to loved ones (death, stage 4 cancer, felony theft).
Now, we are back into the swing of things and have been for over a month now! Whooo Hooo! When we started back up my 7.5 year old second grader started with his new Saxon 3 book. I feel like when we entered this book we went from child's math to REAL MATH. Not that we were not doing math before but we now have multiplication and addition of fractions and big money to learn. By the end of this book he'll even be writing checks! I don't remember ever writing a check out until our 8th grade Life Skills class!!!
So, with these new skills I knew I needed to find some tools to help Otto quickly commit the really hard, crazy skip counting to memory along with some odd ball facts that are just simply going to need to be memorized because they don't fit into any other patterns.
I feel strongly about not letting him slack at this moment because I cheated my way through my own multiplication-table tests in third grade and continuously felt like math was a struggle because of it. I REALLY, REALLY, REALLY want Otto to know all of his facts so well that if feels like he was born with the knowledge.
He still didn't LIKE it but these cards helped him forget that it was AS torturous and just yesterday he exclaimed "how easy" these facts are for him.
I needed to find SOMETHING fun to help him get through these rote memory tasks.
So, here are some of the tools some awesome homeschooling friends that I met last year on The Old Schoolhouse Review Crew helped me find to ease our memorization process.
First:
A
gorgeous skip counting tool
which looks like it has been plucked right out of Fairy Land.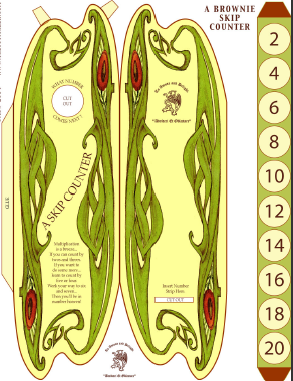 It is called a Brownie Skip Counter and I do believe I will now be looking for our first Fantasy read-a-loud book to accompany the spirit of this gem! :) (Anyone know of any good beginning readers for boys with Brownies, fairies and elves??)
I think this fun tool will take a little bit of the pain away from Otto's current task memorizing skip counting by 7's! OY.
Here is
a link
to this beautiful creation by
The Toy Maker
. You'll find it in 2 pdf's positioned under the jump roping fairy!
Second: Otto is also trying to learn those last pesky addition problems that do not follow the additions patterns. They are not doubles or doubles plus one. They are not skip counting problems of 2 or 5 or 10. You can not double them and take one away or add 10 and take one away. They are just pesky (like my muffin top)!!! You know the ones: 3+5, 3+7, 4+7, 5+8....
Otto is
sick to tears of the stupid rectangular flash cards
that we use and I wanted to mix it up a bit. I remembered the
awesome triangular flashcards
that I used when I taught third graders in Illinois. The cards hold both addition and subtraction depending upon which corner you cover up. So, the card below reads 5+6 with the answer hidden if you hold the bottom corner. It reads 11-6 if you hold the left corner (covering the answer) and if you hold the right corner it reads 11-5.
I did a search and saw that these can be purchased but I don't want to wait, nor do I want to spend my money on flash cards.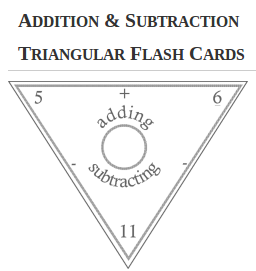 I did not print Donna Young's multiplication fact triangles because the numbers are not oriented to the bottom. Otto is still having trouble remembering to write some of his numbers the right direction and he will flip numbers around from time to time as well. The last thing I need to do to him while bombarding him with multiplication is to give him a number like 6 or 9 that is not only confusing to start with but is now SIDEWAYS! Nope. So I left her multiplication cards alone.........but guess what GORGEOUS item I found right next to that beautiful slider???
Yep! Multiplication triangle cards that are to die for beautiful and that are oriented properly (after cutting or folding)! Here is
the link
to the beautiful multiplication Multi-pie!
Let the math games begin!
What cool math tools do YOU use to help your young ones memorize those horrid, detested facts?