There is a meme out there called 5 Things Friday where the blogger blogs about 5 interesting things from the past week.
Here is my very first 5 Days Friday Post.
Last weekend, I attended an annual Introduction to Bee Keeping Course that my husband's bee club hosts. He is the Bee Farmer (snicker) I am just the bee keeper's wife, BUT when he pulls doubles sometimes I am asked to do things for him and I figured this year I would "officially" take the course to make sure my knowledge had no gaps. I realized I knew more than I thought I did and that was exciting. Next year I'll hang out with the older Bee Wives. :)
My first 3 things come from that all day workshop.
1. There is a product called BONE WAX. It is a specially manipulated beeswax that is used in orthopedic surgery to plug the holes of the porous bones. Bones will weep blood just like a wet sponge will seep water. The BONE WAX is smoothed over the bone, it seals the pores and stops bleeding. Cool!
2. Honey bee swarms happen after the worker bees put the Queen on a diet to make her lose lots of weight. They do this so that she is light enough to fly and so that she is unhappy enough to leave home! Sound familiar to any of you dieters out there?? I just cut sugar out (okay, almost out) of my diet and there are moments where I WANT TO FLY AWAY.
3. Honeybees, although they are Wisconsin's official state insect, are not native to North America. The native Americans called them "WHITE MAN'S FLY."
Now onto life outside of the bee training. . .
4. This week I learned that it is standard to put ONLY ONE SPACE after a period prior to the start of a new sentence. Do you know how hard that is to do when you have not been doing it this way for over 20 years? Apparently the two space rule came about with typewriters when all the letters took up the same amount of space. The two spaces were needed in order for the words to flow well. According to "those who know," fonts now squish all the letters together. The letter "i" takes up much less space than the "m" and therefore it has been deemed unnecessary to add the two spaces. I honestly don't really get it nor can I easily adapt from two spaces to one on command. I can say I AM beginning to better understand the old people of my youth who complained about how modern technology (you know the microwave, electric typewriters, motorized vehicles) was ruining all that was good in life. I'm not sure I think the spacing change is going to ruin what is good but it IS certainly weird. I told my husband about it and he responded much more emotionally than I expected. Here is the "rant" he wrote in response to this news:
Everything is spinning out of control. A pale horse with its faceless rider charges from the East. Libraries fall to the Mongol hoards of Hulagu and the accomplishments of civilized man are exposed to wind, weather and decay. Beauty sacrificed to feed the Beast.

Hannibal marches down from the Alps led by the bloodthirsty gods: Efficiency and Need. Our sisters flee into the wasteland with their infants latched to their breasts. Our brothers faint for fear as their sons plead for direction.

Friends, Carthage must die and with it, her abuse of our sacred traditions and the desecrations of the tombs of our forebears. This aggression will not stand, man.
5. Homeschool Curriculum: I will now officially admit that I am in the middle of a mid-year curriculum crisis. I see things that we are not doing because what I have just is not working. I see areas that we have missed because, well, they just slipped away from us. I see some great things too but mostly I have spent the last few days pounding my homeschool friends about curriculum options and asking for their opinions of the good, the bad and the ugly. I hope to have it narrowed down soon and am praying that what I want to purchase will be found for a discounted rate used. Hey, a girl can never stop hoping, you know.
BTW: Did you notice that all of my sentences have two spaces behind them? Yep, I learned to do that on an electric typewriter and I am just not sure if, when or how I will be able to alter that two space reality!
What did you learn this week?
Would you like to read more
Friday's Fav Five
?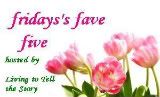 Click on the link and then scroll down to the linky where you will find many other blogs participating.