I promise to get back into my posts about my Story Time Gig books and crafts.
We were hit by two sequential bugs here, my mother came to visit in the middle of the last one (a nasty, hard hitting head cold) and then I had my last week at the library with our normal Preschool Story Time and an additional Thursday evening Elementary school Dress Up Party.
On Wednesday I was asked by the librarians if I had a costume because we adults were to dress up as well for the Thursday event. AHHHHH!!! We had just been to a huge thrift store in a neighboring town the day before. I could have easily picked up an outfit then but did not know to do so.
Ugg. My brain quickly scanned outfits that I knew I had at home that would be appropriate for the lady leading the evening's events. 1) A very, very old sleeveless, fringe filled Indian Squaw dress (which seems so politically incorrect). 2) cat ears and tail to go with a black shirt and pants... of which I no longer have. 3) footed pj's that fit me.... these would be great but I didn't really want to show up for an event that I was in charge of as either a baby or a slob too lazy to get dressed.
So, I fed the children lunch after Wednesday's Story Time and I told them we would go on a car ride to find mommy a costume IF they RESTED OR NAPPED in the van on the way. Much to my surprise THEY DID! Although, there is nothing worse than waking kids up to go into a store after they have been asleep for only 20 minutes. THEY DID GREAT THOUGH!!
My original mission was to latch onto AN AMAZING RENAISSANCE Lady in Waiting gown that I had seen in the window the day before. It was STUNNING. In highschool I had ALWAYS wanted to be one of the very fine Madrigal Singers and could never make the cut. I just did not have the voice training and sight reading skills that those folks did. I drooled over their every move and their amazing costumes. THIS costume would have fit in perfectly....oh how I wanted it.
We got out of the van, went in the doors and walked straight up to the costume. I asked was it for sale, would it fit me and what was the cost. The first two answers made me giddy. The third answer ($49.99) made me sick to my stomach. :(
Plan B.... head to the costume department of the store. This store dedicates a HUGE area JUST for Halloween stuff, most of it was new. My boys saw a witches hat and thought I should be a witch (knowing how little they know about witches I did NOT take their opinion personally). The hat alone was $9.99. UGGG. I REALLY DON'T GET OUT MUCH! I kept that idea on the back burner.
We then walked down a long aisle of used costumes and other clothing that was pulled that would easily fall into the Halloween Dress Up category. I began pulling anything that was possible. I pulled black clothing, I pulled old dresses, I pulled an AMAZING, GORGEOUS FORMAL GOWN (black) that fit me like a dream. I looked at the knee hi, high heel boots (witch outfit?). Then we went off to the dressing room. It was one of the smallest dressing rooms I have seen in a long time and I had all three kids with me. I told them to make themselves skinny and hold the walls up.....................AND IT WORKED! After sometime Abram decided that he wanted to look out below which worked out okay.
The pair of old-fashioned jeans fit perfectly (by that I mean they do not have an hour glass shaped thigh nor contain any spandex!), YAY for me!! A hoodie fit great too. That evening gown was dreamy. Otto told me I looked like a princess. I then started trying on the *other* clothes. I was intrigued when a hand sewn blue dress fit as if it were made for me. When I pulled it off the rack I didn't really know why. I was thinking Marsha Brady. When I saw it on me I thought perhaps with an apron I would look like a housewife from the 1950's.
So we went off to the shoe section where I asked a cute older lady to help me find shoes that looked like they would have been worn with the outfit. She looked at me with a cute expression and chose my shoes.
I then asked a worker if they had aprons. He led me to the right aisle and I started to look. I grabbed an apron that seemed perfect to me, tied it onto the dress, hung it up with the shoes below and asked 3 nearby ladies (likely in their early 70's) if the outfit looked authentic enough. I thought the one was about to faint, the other two crowed how perfect it was. They then started giving me advice on my hair style and began arguing with each other over how I should do it. LOL
I was very excited.
The next step was to go home and research how on earth to do my hair.
I learned much from youtube tutorials (links below). I am always shocked at what you can learn from Youtube videos. There are some ladies who are really, really good at vintage hairstyles. I found out my hair is on the verge of being too long but I pulled Victory Rolls and Betty Bangs off anyway.
(Yep, I had a little fun posing!)
No 1950's housewife costume is complete without the perfectly cut, powder sugar sprinkled brownies on wax paper, on a cut glass hostess plate!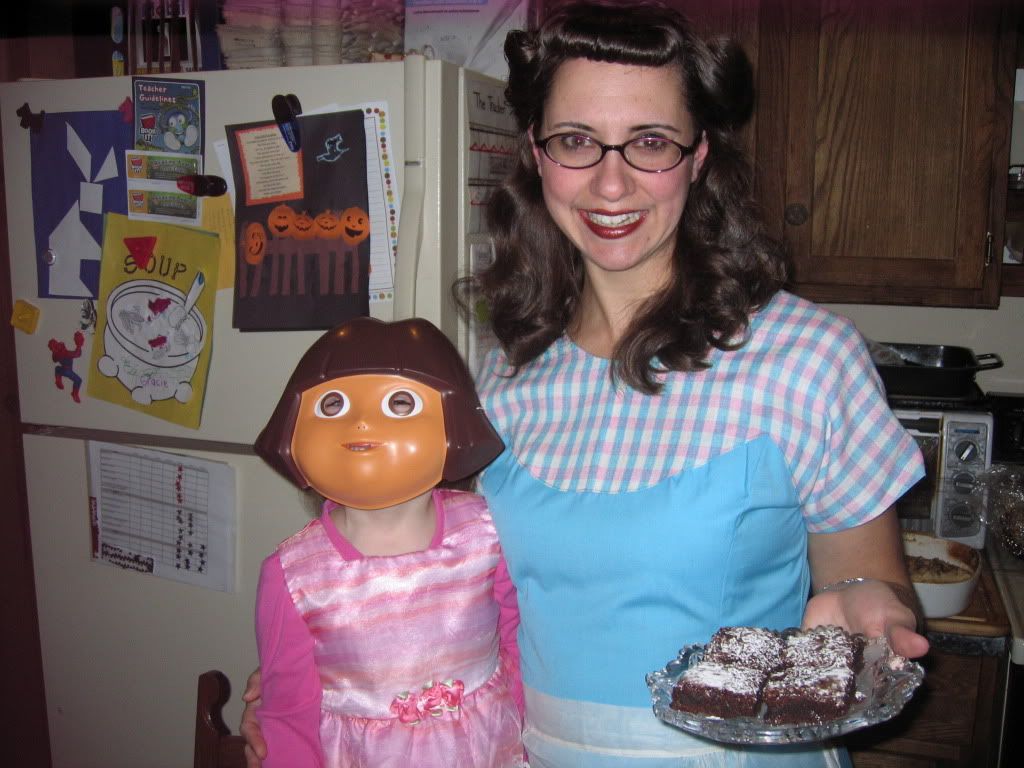 With Princess Dora.
Here are those links to the YouTube videos that I mentioned above:
Aja's Beauty Corner at the VividMakeup's Channel helped me with
Pincurling,
another
, and
another
. I fell in love with Aja! She seems so sweet, so genuine, so calm. Her styling is perfect and while watching her I felt as if I could do this without blinking my eyes............then I tried it and realized that she's REALLY GOOD cause styling hair like this is REALLY HARD!!
Aja, taught me about my
make up too
, click here. Yet, I must have thrown out the super light foundation I used to have and had to go without. Oh well, likely no one would have noticed anyway.
I just NOW saw
this video
and am now wishing that I had seen it the night of our costume party. No matter how hard I tried I just could not get the back of my head to do what Aja did with hers. I was WISHING that I had NOT combed out my curls from my hot rollers (*gasp* Yep.... my pin curls did not look great the morning of and I resorted to hot rollers.) Anyway, this back roll would have helped the look even more. Apparently, it's called a GIBSON ROLL. Oh the things you can learn in the topic of Vintage Hairstyles!
This gal
HERE
helped me with VICTORY ROLLS (the side rolls on my head) and so did
this
cute blondie. Of course, while I looked for those links I found
this cute video
. She spends lots of time videoing her brushing and clipping, but you can skim through those sections.