It is a challenge to post once a day about something we are thankful for.
You may read my daily post below and you may also
click here
to see what others in the Challenge are thankful for as well. If you blog, feel free to hop on board. Just type up your posts each day and then connect your blog post specific blog address to the Linky that Brenda provided at the link above.
---------------------
November 9, 2011
Today I am thankful for....
my SQUIRREL AWARD!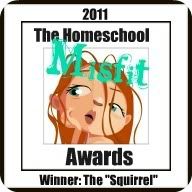 The "Squirrel" Award-
"
Wait, weren't we supposed to be studying Abraham Lincoln? How'd we end up talking about the chemical properties of Styrofoam?
" This is the homeschool blogger who begins her posts on one topic and then takes off in several different directions. ADHD anyone?
I feel so honored!
I have no idea who nominated me, nor who voted for me, but I want to say that I think that THIS AWARD fits me PERFECTLY!!!
I am the epitome of Attention Deficit Disorder and I have a diagnosis paper to PROVE IT!
Now I just need to find a squirrel mascot.
A
friend
(hee hee on the link) offered THIS one
BUT I told her it wasn't drooly enough.
I actually think they could combine the Squirrel Category with the Harried Homeschooler and the mascot would be a super hairy Squirrel. LOL
Oh! And I also now get to test my own patience as I wait for my prizes to show up in the mail and in my inbox! Whooo hoo. I'm SO EXCITED to watch my mailbox!!!


Here are my prizes (and what I chose):
A Journey Through Learning will provide a lapbook of choice to all 10 winners! I chose the INSIDE MY BODY lapbook! :)
TeachwithGames.com is offering a printable game set (10-15 games included) of choice to all 10 winners! I chose the Phonics Games Two.
AND THEN I AM SUPER STOKED TO RECEIVE from: TOS Crew member, Heather, from Faith, Family & Fun is providing 1 winner with a "Pamper Pack for a Homeschool Mom" ($20 Starbucks gift card, a fun book, some sea salts and organic soap)!
My Starbucks Gift Card is nearly empty: Whoo hooo, it is now recharged!
YAAAAAAAAY!!
THANK YOU SPONSORS FOR YOUR WONDERFUL PRIZES!!!
Please go visit them. :)
Really, folks. I am so excited about this award because it means that at least a couple of people have noticed my little blog that is a scattered reflection of the whirlwind I call *life* here on the homestead.
Before you leave, can you go to the blogs below and show them some love too?
These are the blogs that were nominated in the Squirrel category.

If you would like to read more Gratitude Posts or jump on board click the button below.