While I sit here writing I am wondering if I will EVER have energy or a clean house again!
This past Thursday, Friday and Saturday I had my first ever Yard Sale.
Over the many weeks leading up to my sale I spent much time thinking about where to put signs, what I wanted my signs to look like (or NOT look like). I asked around to borrow tables, I thought about how I wanted my tables arranged. I was purging our home like a mad woman. If we had not touched it in 2 months it was likely tossed in a box. I decided I would only mark a few items and that everything else would be 50 cents. The mission was PURGE, PURGE, PURGE!!!
Last week started with me prepping for my first ever yard sale. By the way, in my neck of the woods they are called *Thrift Sales.* I made my signs by printing my words really large on paper, sticking them onto a white poster board template and using an exacto knife to cut out the letters making a huge stencil. I then colored in the stencil holes with permanent black marker.
They looked great and best yet..... people told me the same thing. :)
Wednesday found me cleaning up the garage and then cleaning a rich organic compost like debris filled with dirt straw & manure off from our concrete pad. The barn and chicken yard is up the hill and every rain washes such debris down the hill and onto my driveway. (Yep, I know, kinda gross.) THREE wheel barrows FULL of debris and the concrete was clear. Ugg.
At 3:15 pm on WEDNESDAY (sale was to begin Thursday at 10am) my first EARLY customers arrived. I had not even one thrift sale box down stairs and into the garage. They were all towering mountains in the upstairs spare bedroom and the office/soon-to-be school room. I had to bring the elderly, early shoppers into my house and up the very uneven stairs to dig out the stroller and the guitar they wanted. I shake my head over this but am not complaining since their purchase was big enough to PAY FOR my advertising!!! :)
Wednesday night, Hubby and I put up tables, covered them and unpacked as much stuff as we could until it was too dark to see. A baby bat, who was NOT afraid of humans, joined us making our work a bit interesting. I told him we had plenty of bugs and that he could move over the yard a bit. :)
Thursday morning I was up at 5:30 am to shower and go place signs. Then I came home and THOUGHT I had enough time to finish setting up before my 10 am start. I have learned MANY, MANY things throughout this sale. I had been given very good advice before hand but had not been prepared for the HUGE RUSH of (blood thirsty) PEOPLE showing up at 8am for a 10am opening!!! Next time, if there is one, I will have the GATE CLOSED on the driveway with a sign prominently place stating that the sale begins at 10am and ends at 6pm.... and I will remember to CLOSE the gate until I am ready!
I was also not prepared to negotiate prices. I had NO experience negotiating prices. When these early birds arrived I had not marked many of my bigger items because they had been buried upstairs in the mountains. I had an older, second rate rocking chair out that was not marked, when I was asked my price I felt obligated at the time to keep my word that "Anything unmarked was 50 cents." As my words came out I immediately regretted my choice but felt I couldn't take it back. I had not had any think time and had not known that I could have announce that the sale started at 10 and we were not quite ready and not everything was marked. Thankfully, despite her ruthless negotiating on other items the woman who snagged that 50 cent chair overpaid me and told me to keep the change. She also made off with a super old antiquish cultivator for $5. I think she would have bought it for $25 but alas it is now out of the brush and Hubby will now no longer come in with pretty bruises on his shins as he runs into it hidden in the weeds. :)
Pricing: the most tormenting part of my sale. I found myself in this internal debate the entire three days of my sale. I REALLY just wanted stuff to go and was only having the sale so that I had less to transport and could make a few bucks along the way. However, there were several items that I COULD have held out on and made much more money than I did. I felt this internal struggle between getting excited over watching someone take 4 plastic grocery bags of baby clothes away (so I didn't have to lug them somewhere else) and then lamenting that I only made $4 from ALL THOSE CLOTHES. I had to keep reminding myself that YES they were getting a *Steal* but letting this happen most often blessed many people (and I was told this directly) and it also blessed me by getting rid of my stuff.
Overall, if I lived in town I would have made more but considering that I live out in the country I did pretty good. I think the money I made should either completely pay for or will make a large dent in replacing my kitchen sink and counter and will allow us to do that project sooner (you know, before the sink falls THROUGH the counter top)!
There were other benefits as well.
* The scale is showing me at lower number after all my running around. :)
* My calves are NICE AND TONE, or at least more tone than they have been in a VERY long time!
* I will not overwhelm the bi-annual clothing distrubution that I donate my unwanted stuff to. :) Twice a year people working with the Social Services of my county get to come to a distribution point and may take anything they could use for free. They are so needy and so thankful. I LOVE taking my stuff there. Each Spring and Fall they fill a HUGE room full of tables that are piled near shoulder high. At the end of the one day giveaway they usually are only left with 1 partial car trunk full of leftovers that they then give to Hope Gospel Mission. Yep! It's a cool thing to be a part of. :)
* As a woman who no longer receives a paycheck there is just something about being able to make money that helps out. Hubby selflessly works hard both in his paying job and doing physical labor around the homestead. I know I don't need to but there are just times were I feel bad that I can't help out. This little chunk of change will be a great help and I am so excited to be able to help pay for the one repair in my home that I will get the most regular use out of. :)
I am sure there are other benefits as well. Currently I am too exhausted to think or type any more. Those of you reading my posts on email on your lunch break are saying "WHEW!! It's about time she stopped yapping!" :)
It was a fun experience. I am not sure I want to repeat it anytime soon but it was fun, I enjoyed it and I learned much about the process and about myself along the way.
Now it's back to life:
1) re-coup QUICKLY
2) go harvest the tomatoes that DESPERATELY need to be attended to.
3) get my Homeschool Co-op Botany course planned (At Least September 4th's class)
4) Pack up the clothes in the garage and figure out if I will save them all for the Clothing Distribution (see below) or give some away on Free Cycle.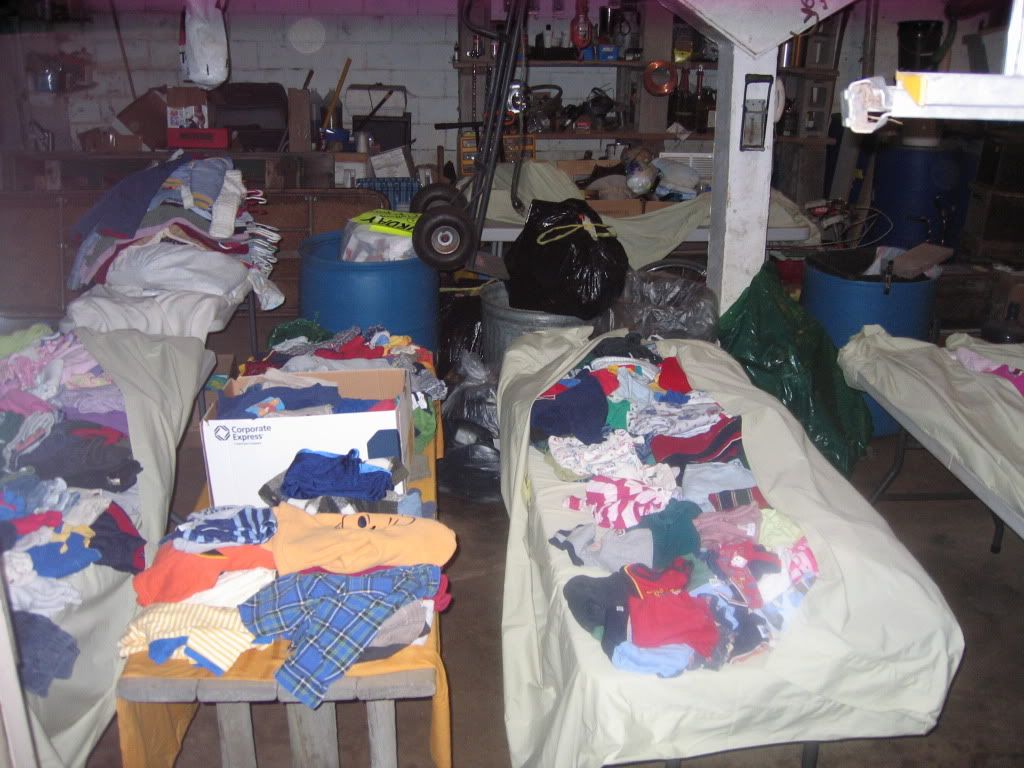 5) Take all my trash (mostly plastic and stained clothing) to the dump.
6) get the school room finished now that the box mountains are out of the way and I can access it.
7) Thursday I am volunteering at a meal service place ("soup kitchen") and then running errands. I will be looking at sinks, counters, buying curtain material for the school room, picking up needed supplies at an office store for my class and for homeschooling, stopping by Once Upon a Child to see if they will buy some of my nicer kid outfits and stopping by Sams to pick up a few needed items. I suppose at the end of my day I should pick up my children from My Lois' house. :) LOVE HER!
8) can tomatoes
9) sew thermal curtains for the 2 MONSTER windows and 5 other smaller windows upstairs
10) plan our school year
11) finish purging the last 3 spots in the house that I did not get to and sell some of my items being stored in those spots on ebay. (Side note: If you get the urge to try to sell on ebay..... 1) KNOW there is a HUGE learning curve and 2) DON'T have your sales come off of auction DURING your very first THRIFT SALE.....just sayin.....)
12) start teaching school
13) pass out.
So, what does the end of August and beginning of September look like for you?